The Sony Xperia S Illuminated 3D Cosmic Flow Live Live Wallpaper stay background gives your Touch and scroll sensitive technical touching. An apparently unlimited sequence of beautiful cosmic  flow and move across your display. Change the movement rate to fit your preference and needs.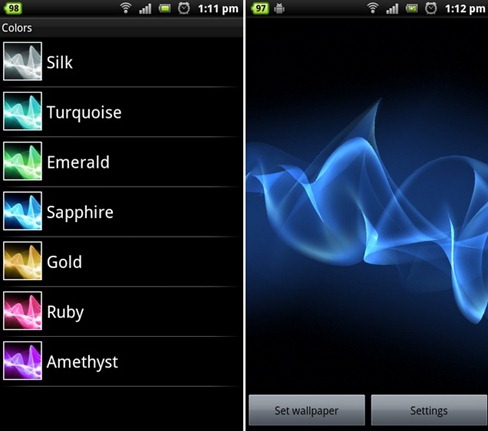 This original Cosmic Flow Live Wallpaper from Xperia S with 7 different colors is available for download.
Download Sony Xperia S Cosmic Flow Live Wallpaper Apk: Link
How To Install
Step 1: Go to settings>Applications>Enable Unknown Sources.
Step 2: Click the Cosmic Flow Apk To start install.
Step 3: Hold press the home screen then choose on the wallpapers and then choose Live Wallpapers.
Step 4: Choose Cosmic Flow live wallpapers.
Step 5: For the 1st time, the menu appear black. So, please click on the settings to choose the Cosmic Flow style.

Step 6: Then you can press set wallpaper.
Thats All ( Run smooth on Galaxy Note and S2!)