There are many alternatives that allow it to have our contacts always just a click away, but today I want to impress with your contacts application that makes animated images with hilarious and exhilarating action. All for free thanks to BuddyCon, really fun live wallpaper.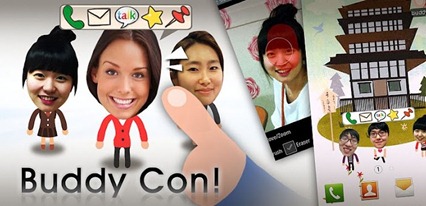 BuddyCon is an exciting Android app that lets you add a dash of fun to your texting. You can create funny avatars and animations for the contacts of your friends and dear ones and customize them to your heart's content.
BuddyCon allows you to create on-screen avatars and animated versions of their friends and contacts, thereby adding a whole new world of fun and levity to the boring process of receiving and sending mobile messages and phone calls. Using the avatars, you can get in touch with your contacts really quickly. You can double click on an avatar to make a call, thereby saving the time of entering a phone number.
Download BuddyCon For Android: Android Market Link